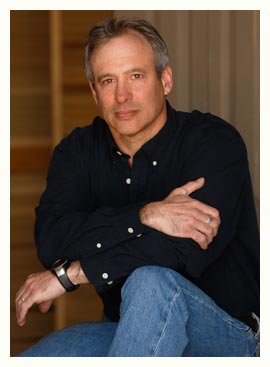 About Peter Heller

Peter Heller is a longtime contributor to NPR, and a contributing editor at Outside Magazine, National Geographic Adventure, and Men's Journal.  He is an award winning adventure writer and the author of four books of literary nonfiction.  He lives in Denver.
Heller was born and raised in New York.  He attended high school in Vermont and Dartmouth College in New Hampshire where he became an outdoorsman and whitewater kayaker.  He traveled the world as an expedition kayaker, writing about challenging descents in the Pamirs, the Tien Shan mountains, the Caucuses, Central America and Peru.
At the Iowa Writers' Workshop he won a Michener fellowship for his epic poem "The Psalms of Malvine."  He has worked as a dishwasher, construction worker, logger, offshore fisherman, kayak instructor, river guide, and world class pizza deliverer.  Some of these stories can be found in Set Free in China, Sojourns on the Edge.
In the winter of 2002 he joined, on the ground team, the most ambitious whitewater expedition in history as it made its way through the treacherous Tsangpo Gorge in Eastern Tibet.  He chronicled what has been called The Last Great Adventure Prize for Outside, and in his book Hell or High Water: Surviving Tibet's Tsangpo River.
The gorge--three times deeper than the Grand Canyon-- is sacred to Buddhists, and is the inspiration for James Hilton's Shangri La.  It is so deep there are tigers and leopards in the bottom and raging 25,000 foot peaks at the top, and so remote and difficult to traverse that a mythical waterfall, sought by explorers since Victorian times, was documented for the first time in 1998 by a team from National Geographic.
The book won a starred review from Publisher's Weekly, was number three on Entertainment Weekly's "Must List" of all pop culture, and a Denver Post review ranked it "up there with any adventure writing ever written."
 In December, 2005, on assignment for National Geographic Adventure, he joined the crew of an eco-pirate ship belonging to the radical environmental group the Sea Shepherd Conservation Society as it sailed to Antarctica to hunt down and disrupt the Japanese whaling fleet.
The ship is all black, sails under a jolly Roger, and two days south of Tasmania the engineers came on deck and welded a big blade called the Can Opener to the bow—a weapon designed to gut the hulls of ships.  In The Whale Warriors: The Battle at the Bottom of the World to Save the Planet's Largest Mammals, Heller recounts fierce gales, forty foot seas, rammings, near-sinkings, and a committed crew's clear-eyed willingness to die to save a whale.  The book was published by Simon and Schuster's Free Press in September, 2007.
Heller just completed his most recent his book, about surfing from California down the coast of Mexico.  Can a man drop everything in the middle of his life, pick up a surfboard and, apprenticing himself to local masters, learn to ride a big, fast wave in six months?  Can he learn to finally love and commit to someone else? The answers are in Kook: What Surfing Taught Me about Love, Life, and Catching the Perfect Wave. It just won a starred review from Publisher's Weekly, which called it a "powerful memoir…about love: of a woman, of living, of the sea."
Heller is currently working on a book of poetry.